Residential Landscape Architecture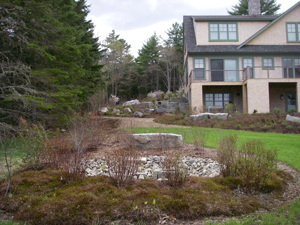 Whether you have a vision for how your home nestles into the landscape or you have something more dramatic in mind, whether you want to add to your existing home, you're building a new home, or you need some inspiration, Context By Design is here to help you make it a reality.
We help homeowners envision what they want their outdoor environment to be by seeking their intended uses and future experiences they hope to have. Our residential landscape architecture suggestions have included revitalizing mature landscaping, adding features like a deck, patio, wall, or pedestrian and vehicular circulation areas, adding plantings to frame, screen views, or define spaces.
From a brief initial discussion, Context By Design can provide you with an idea of how the landscape design process would proceed and what, if any issues, you might face along the way. At that time, we can provide you with an estimate of how long the project could take and possibly if the thought is developed sufficiently, an idea of the budget. For specific projects involving specialized services like pools, additional buildings, building additions, or significant retaining walls, Context By Design can assemble and facilitate a team of the proper professionals to get your project done on time and budget.
Should the project require local, state, or federal permits, Context By Design knows the process and the regulators. We can act as your agent. We facilitate the necessary applications to get regulatory approval for your project quickly.
Landscape Planning Tip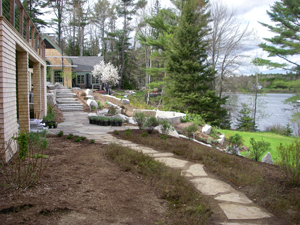 Any time is a good time to begin planning your residential landscape architecture improvements. However, the best time is in the fall and early winter. Many people start to enjoy the warmth and blooms of late spring and summer and get motivated to improve their landscapes.
While this is certainly good, many find that landscape contractors have work scheduled for the following several weeks or more. Then, those good intentions get put off, often indefinitely.
By developing your landscape plan in the fall or early winter, you get a triple bottom line benefit from your thoughts, likes, and wants relatively fresh in mind. You can schedule the work to begin in the spring, taking advantage of the entire growing season. Possibly most important, you typically benefit from favorable pricing because the contractor is assured of a project to begin the season.
What can Context By Design do for you? Contact us. Call 207-963-9171 to find out!
Residential Landscape Architecture Portfolio