Commercial Landscape Architecture
Years of Experience in Landscape Architecture & Planning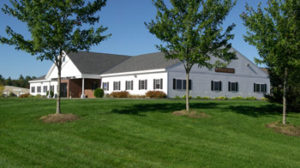 Context By Design is well-versed in land development and site planning projects for public use. Our market segment experience and capabilities include municipal, medical, institutional, educational, recreational, correctional, and commercial landscape architecture. Our abilities in these markets range from site selection and master planning through construction document preparation, permitting, bidding, and construction observation.
Through his experience and relationships, firm Principal and Maine Licensed Landscape Architect Steve Ribble has helped many clients reach their goals of designing and constructing site improvements that will effectively meet their needs, comply with all codes and regulations, and be constructed on time and within budget. Context By Design is fully licensed and insured to design, permit and facilitate land development in Maine.
View a copy of a layout plan by Context by Design.
Helping Clients Plan for Success
Often, projects begin with a master plan which allows you to anticipate issues and see how the project would look on a site. It allows you to verify a timeline for moving forward based upon the proposed improvements involved, any associated potential permitting, and gaining stakeholder support. In some cases, the master plan is used to support securing funds for the project.
Many clients have a vision of what they want and initiate projects that go straight into a 'design for construction' mode. In these cases, we provide some initial concepts to identify issues and permitting requirements to be addressed concurrently as the project design is developed. This allows us to move your project forward as quickly as possible, saving you time and money.
Context By Design is equally comfortable being your sole consultant, leading your design team as your agent, or working alongside allied professionals as part of your team. We take pride in our collaborative project approach. It routinely provides you with the best possible design solution.
Our expertise includes building siting and circulation design, site grading, commercial landscape architecture planning, permitting, public involvement facilitation, and project management. Contact us to find out how Context By Design can help you reach your goals. Call 207-963-9171.
Commercial Landscape Architecture Portfolio